France's Jean-Marie Le Pen 'pulls out of poll'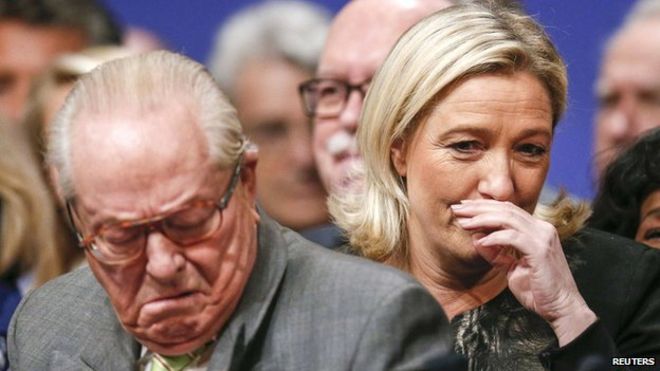 The founder of the French National Front, Jean-Marie Le Pen, has said he is pulling out of regional elections amid a row with his daughter.
Marine Le Pen, who now leads the far-right party, condemned her father for his recently repeated claims Nazi gas chambers were a "detail of history".
Mr Le Pen told the Figaro he would not be standing in the south-eastern Provence-Alpes-Cote d'Azur region.
But he said he thought he was "the best candidate for the National Front".
Mr Le Pen said his 25-year-old granddaughter Marion Marechal-Le Pen – Ms Le Pen's niece – would be the best person to stand in his place.
"If she accepts, I think she would head a very good list [of candidates]. She is certainly the best, I am not going to say after me, but she is," he told the newspaper's weekly magazine.
Mr Le Pen, who is honorary president of the party, is to publish a statement later on Monday to confirm his intentions regarding the election, the newspaper reports.
He is currently an MEP and a regional councillor for Provence-Alpes-Cote d'Azur.
The party's deputy, Florian Philippot, described Mr Le Pen's decision as as a "wise" one.
Ms Le Pen has tried to rid the party of its racist image, the BBC's Lucy Williamson in Paris reports.
Last week, Mr Le Pen defended his previous description of the Holocaust as "a detail" of World War Two – prompting Ms Le Pen to say she would block his candidacy in the December polls and to demand that his role in the party be discussed at a meeting of party executives on Friday.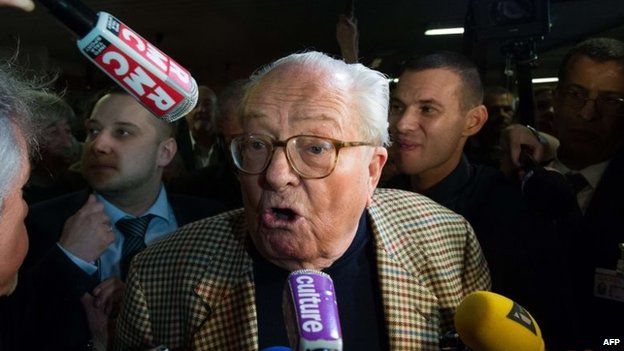 Jean-Marie Le Pen: Career controversy
1987 – First makes his infamous remarks describing the Holocaust as a "detail of history"
1997 – Assaults rival Annette Peulvast-Bergeal during parliamentary election campaign
2006 – One of many convictions for inciting racial hatred over inflammatory remarks about France's Muslim population
2007 – Tells Le Monde newspaper "you can't dispute the inequality of the races"
2015 – Repeats views on the Holocaust, prompting Marine Le Pen to accuse him of trying to "rescue himself from obscurity"
A family feud on the French far-right
A step closer to power for the FN?
From 'untouchables' to EU force

Mr Le Pen also gave a couple of interviews earlier this month in which he said the French wartime leader Marshal Petain, who collaborated with the Nazis, was unfairly maligned.
He went on to say that France was governed by immigrants – singling out Prime Minister Manuel Valls, who is of Spanish heritage – and that France needed an alliance with Russia to save the "world of the whites".
Marine Le Pen is widely expected to run for president in 2017.
Last month, the FN polled 25% of votes in the first round of local elections.
Recommended For You.
Arsène Wenger has said his appetite for management remains strong and he has hinted he wants to continue for at
Related Articles: